Since 1996, the Yavapai County Sheriff's Air Group has been providing air assets to assist with Search and Rescue, Smoke Patrols and Law Enforcement missions in Northern Arizona.
Based at the Ernest A. Love Field (PRC) in Prescott, Arizona the YCSAG volunteer members meet regularly for meetings and training sessions in preparation for aerial search and rescue missions.
Operating privately owned aircraft, members regularly contribute to successful rescue efforts. Many of which were reduced to hours of searching instead of several days which was typical before the formation of the group.
Yavapai County Sheriff's Air Group meetings are held the last Wednesday of the month in the old Terminal Building at KPRC. The Board meeting starts at 5:30pm and the general meeting at 6:00pm.
In addition to state and county resources, the Yavapai County Sheriff's Department has several volunteer organizations at their disposal to contribute to search efforts. Whether by foot, horseback, four-wheel-drive vehicle or by air, these dedicated individuals give thousands of man-hours annually to make our part of Arizona a safer place for everyone.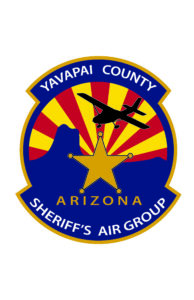 Pilot Requirements: Private Pilots License and own an aircraft
Observer Requirements: Attention to detail and a general aviation interest
Both require a Yavapai County Sheriff's Office background investigation and successful completion of Basic Volunteer Rescue Training
Yavapai County Sheriff's Air Group, Inc is a volunteer, non-profit 501(c)(3) organization. If you wish to volunteer, support or donate to our organization Click Here
©2023 YCSAG